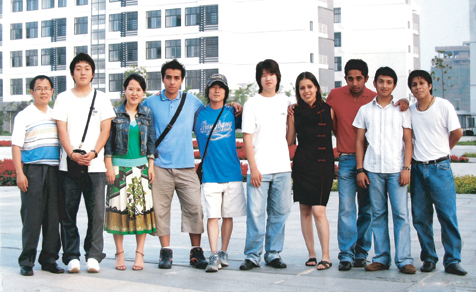 Our college has set up inter-school cooperation with 21 colleges and universities in 12 countries or regions.
Introducting of advanced vocational education mode
Our college and TEUTLOFF vocational school of Germany signed Agreement of? Joint-educational Program, and had absorbed their advanced vocational education conception, introduced their "dual-system" teaching mode. In order to create the international characteristic specialty, curriculum, and to train international standards of high-skilled personnel, in 2008, our college cooperated with Niels Brock Copenhagen Business College of Denmark started the logistics management program; and with Yeojoo Institute of Technology of Korea started the Vehicle Inspection &Maintenance Technology program,.
Absorbing high-quality educational resources
With the 4.82 million euros Austrian Government loan, our college has established professional training center for Aquaculture, food processing, CNC, automotive technology and other characteristic specialties, with the advanced equipment and facilities from foreign countries. Our college with the Hyundai Motor Group of Korea, established the school of Hyundai Auto, the largest talent-training base.
Forming an international faculty
Our college employed Mr. Samuel Ding, the winner of Nobel Prize in Physics and Mr. Xue Rongxing, vice president of Hyundai Motor Group of Korea served as honorary president, which attracts foreign experts and scholars to work in our college. In June 2006, our college dispatched ?11 teachers to Germany for technical training, and they all acquired professional qualification certificates and TUV skill certificates. In September 2007, our college assigned 16 excellent teachers to the United States, Germany, Austria respectively for the CNC training and learning. In 2008, It has totally sent 20 teachers to Hyundai Motor Group of Korea for engine, chassis, electrical technology and other training. Meanwhile, every year there are 8 Denmark Logistics experts and 3 Korean Automotive Technology experts, as well as more than 10 foreign language teachers working in our college.
Carrying out students exchange
With the Ministry of Education's Service Center for Scholarly Exchange, our college has set up a talent training base to recruit overseas students from Korea, Mexico, the Arab countries and other countries. At the same time, our college recommends outstanding students to go to study in world-renowned institutions every year.