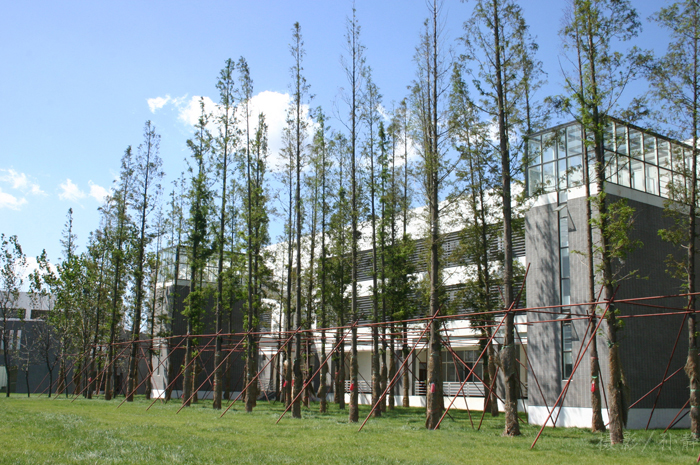 Rizhao Polytechnic is a comprehensive higher vocational & technic college to meet the demands of the local economic development in Rizhao City. It originated from Rizhao Third Vocational High School, which was founded in 1988. Then it was transformed into Rizhao Economy School in 1993. In 1995, it was nominated to "National Key Secondary Vocational School". In 1998, sanctioned by the Ministry of Education, it became the first Polytechnic in Shandong Province----Rizhao Polytechnic. In 2005, it was entitled one of the first-group leading preventative polytechnic. In 2008, it was entitled to "the National Representative Higher Vocational College Initiation Construction Unit" by China's Ministry of Education and Ministry of Finance.
It is located in Scientific & Technological Garden of Rizhao University Town and occupies the area of 1,242 Mu with the construction scale of 384,300 square meters. It owns fixed asset of 660,000,000 RMB and total instrument value of 130,000,000 RMB. There are about 14,000 full-time students and 904 staff.
Rizhao Polytechnic adheres to its development through the perception of "Integration with practice" with "Service" tenet and "Employment" orientation. It explores the Talents Fostering Mode of "Professional Experiencing—Practical training —Positional Chastening", the teaching mode of "Synchronization of Leaning and Training" , and the School-enterprise Cooperation mode of "Running Factory in School, Opening Classes in Factories, Exchanging of Enterprises and School, and Dual Participation".
According to the local economy's development, Rizhao Polytechnic opens total 54 specialties and constructs 13 Specialty Group including Aquiculture, Food Processing, Tourism, Electromechanic Engineering, Architectural Engineering, Automotive Technology, Logistics and other related specialties. It has established successfully 1 National Experimental Teaching Reform Specialty, 2 Provincial Representative Specialty, 2 Provincial Feature Specialties, 1 Provincial Brand Specailty, and 1 Provincial Adult Education Brand Specialty. At the same time, it has established 3 national elite courses, 9 provincial elite courses, and 53 college elite courses.?
At present, it owns 779 Full-time teachers, 357 part-time teachers including some "Chief Technicians" in Shandong Province. The teaching team of Architectural Engineering Technology is the provincial teaching team in Shandong province. It has published 153 textbooks, 1536 education and teaching theses and it undertook 116 scientific research projects, among which 15 won over Municipal Fruit Award, and 21 won national patents.
Our college carries out all aspects school-enterprise cooperation. At present, it has established 541 Off-campus practice &training bases and set up 17 in-campus practical training centers and 168 multi-functional technical training classrooms with some enterprises and departments, such as, Taiwan Gaoshan Tea, Shenzhen Dalei Group, Rizhao Bureau of Quality & Technical Supervision.
Our college tries to learn and absorb advanced international technology and teaching resourses. At present, it has developed cooperation with total 12 countries and 21 foreign universities. Mr Samuel Ding ---- the Nobel Prize winner and Mr. Xue Rongxing----Vice Chairman of Hyundai Motor Group of Korea, were invited to be Honorary President successively. In cooperation with Niels Brock Copenhagen Business College of Denmark and Yeojoo Institute Technology of Korea, the specialty of Logistics Management and Automobile Inspection &Maintenance were established. In cooperation with Hyundai Motor Group of Korea, the School of Hyundai Auto, the largest modern automobile talent-training base in China, was established. Except that, Rizhao Polytechnic with the Austrian government loan has established professional training center for Aquaculture, food processing, CNC,automotive technology and other characteristic specialities.
It adheres to the "Service Tenet" and takes active part in Rizhao professional personnel training. So far, it has trained total 84,000 personnel for society.
It enrolls students from 26 provinces in the whole country. For many years, the average freshman registering rate has reached to 100 percent and it has trained 16,000 excellent higher vocational graduates for the society, whose average employment rate is over 94 percent after graduation, and the enterprise satisfactory rate has reached to ninety percent.
Adhering to the perception of "Paying equal attention to theory and practice; blending together technology and the humanities", Rizhao Polytechnic achieved harmonious development in dimension, structure, quality, and effectiveness. It has won plentiful honors such as "National Outstanding Unit in Art Education" awarded by the Ministry of Education, "National Scarce Talents Training and Breeding Base in Architecture" jointly awarded by the Ministry of Education and the Ministry of Construction, "The Technically Entrusted Unit in Popularizing the Key Projects of National Scientific & Technical Productions" awarded by the Ministry of Science and Technology, "Shandong Humane Qualities Educating and Researching Base for Higher Vocational College Students " awarded by Provincial College Working Committee, "Outstanding Unit in Imparting Knowledge and Educating People" and "Representative Vocational and Technical College" awarded by Provincial Educational General Office.